The following is an e-mail sent from a good friend of mine to his undergraduate professors. He is currently a first year medical student (MS1) at the University of Texas Medical Branch (UTMB) in Galveston. In the e-mail, he describes his experience with Hurricane Ike. Enjoy!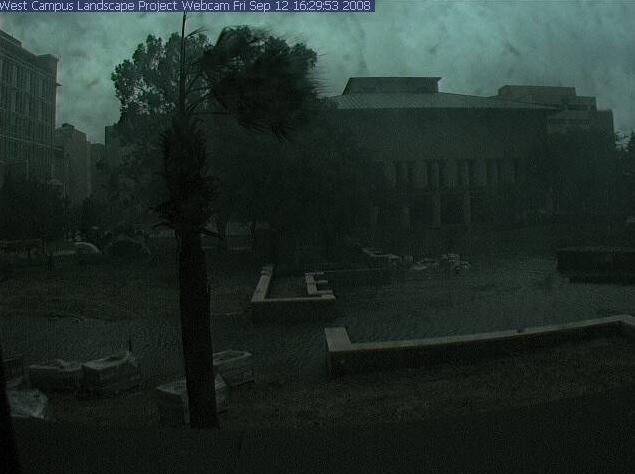 Dear HBU Professors,
As many of you know I just started medical school in UTMB Galveston about three weeks ago.  Up until last week, things were great; I really loved the place and was leaning more than I ever thought I could.  Just when I got into the swing of things, Hurricane Ike decided to storm into the Gulf of Mexico, but initially it was going south of Galveston.  I was going over some Radiology notes with some of my friends in the library last Wednesday when at approximately 4 PM we got word that the projected path for Hurricane Ike suddenly changed and had it headed directly for Galveston.  At that point most of us left the library to watch the news and make phone calls.  I got home and met with the guys at the frathouse, and we all decided to board up the house and move all the electronics and valuables upstairs in case it floods.  So we grabbed a couple of beers (and hammers and powertools) and got to work.  Some of us including I were part of the Hurricane Evacuation and Assistance Team (HEAT), which was a student-run organization that assists in the evacuation of disabled and/or elderly individuals off the island.  The HEAT members initially decided to stay but at about midnight Wednesday, the leader of HEAT (who was himself just a first year med student) called and said there was going to be a mandatory evacuation starting Thursday.  He told us we should disband, get ourselves off the island and let local officials handle evacuations.  So at about 1 AM thursday we finished working on the house and were ready to evacuate.  My roommate is from Arlington and so decided to come stay with me in my sugar land home.  We live on the bottom floor and so moved our TVs and electronics upstairs, packed our laptops and books and left.  The following Thursday morning I received word that all the frat guys evacuated and were safe.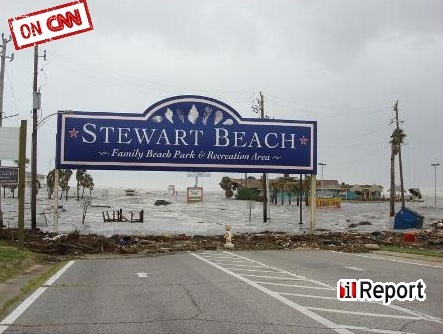 My roommate and I tried to study at a coffee shop the next day but we realized that few things can break your focus like an impending hurricane.  The next morning on Friday we received word that the downtown district and the east side of Galveston was flooded, and this was a full 12 hours before landfall.  The frathouse and the main campus is on the East side, which is a good 18-20ft above sea level, but we were sure that by Saturday it too would be underwater.  At that point I regretted not taking my espresso machine with me when I evacuated.  The storm hit late Friday night in the Houston area and we were without power until saturday morning.  Luckily, nothing happened to our house save for a few downed trees.  But what we saw on the news regarding Galveston was horrifying.  Practically every building on Seawall was obliterated, including the Balinese room and just about every pier.  During medical school orientation we had a party at the Galveston yacht club, and it was disturbing to see that it had been burned to the ground.  Many boats were washed ashore from the bay and littered harborside road and ferry road.   Stewart Beach, as the result of the surge, came so far inland that it was only a couple of hundred yards from our frathouse.  The creepiest images were the ones of the flooding on market st, just in between Shriners Burn Hospital and John Sealy. That was the path I took from the house when I walked to school.  But there was some good news.  Pretty much everything in between 6th street and ferry road held up quite well with minimal flooding, and the majority of student housing falls in that area.  One of the frat guys somehow made it on the island today (Monday) and checked out the house and said it was "clean, dry, intact."  UTMB is on emergency power but the damage was minimal and the flooding receded.  The rest of the island, however, was devastated.  Ironically, it was my 21st birthday on Saturday the day of the hurricane and pretty much every bar and club in Galveston was in the downtown district and probably got flooded and/or destroyed.  Oh well.  Classes were canceled all week, and since the Island is not going to be livable for another couple of weeks, maybe even a month or two, I suspect they will relocate lectures to the medical center or to UT Austin.
But as of now, I'm just hanging out in sugar land, watching the news and trying to study.  I am really grateful no students were hurt.  Well, that was a long memoir but I just wanted to let you all know I'm OK.   Thank you all once again for preparing for me for the rigors of medical school, keep doing what ya'll are doing.  I'll visit HBU near the end of the week.
Wish me luck,
xxx xxxx