I remember really getting into the sport of tennis a few years ago. At that time, only one name stood above the rest. A name which was unrivaled in ability, class, and consistency. A name which probably struck fear into anyone who had to face it. The name was that of Roger Federer.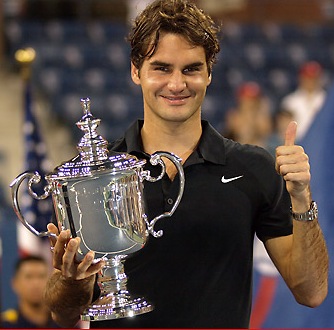 From watching Wimbledon and the U.S. Open, it seems that Federer is slowly losing his edge. I'm sure many have observed the same and drawn similar conclusions, yet I hope it's just be a temporary lapse. All great athletes face a period of struggle amidst their reign over a sport. As a Federer fan, I've hated seeing him come up short at this year's French, Australian, and most recently Wimbledon. Now behind Nadal in the ATP rankings, Federer has some ground to make up if he wishes to reclaim his position as the world's best.
Watching Federer face Andreev in the US Open, down one set and down 5-4 in the second set, makes me feel even more uneasy. It takes him longer to defeat his opponents. His shots just don't seem to have the confidence he once displayed. This consequently has skyrocketed his unforced errors. *Sighs.* I really hope this isn't the end. 🙁 Ugh, and to make matters worse, Nadal seems pretty much unstoppable at this point. He has an ever-growing fan base, just as much experience as Federer in grand slams, and, oh yeah, he's ranked #1. Disregarding all of that, I still believe in you, Federer! Hopefully 2009 will bring a lot more success than this year has.