So I received my memory from Other World Computing this morning, and was eager to plop it into my Macbook as soon as possible. I must say from start to finish, this $100 project was well worth the money, time, and labor.
I originally had 2 GB of RAM (667 MHz DDR2) on my Macbook but felt that maxing out the notebook's capacity to 4 GB for only $100 was worth the expense. I came across Other World Computing (OWC) while browsing a few Mac-related forums. Purchasing RAM from a third party vendor made me skeptical at first, but… what's life without some risk-taking? For my particular Macbook model, this memory was what I purchased: 4 GB Macbook Memory Upgrade
The install process was a breeze, since OWC not only ships the memory USPS First Class but also with installation instructions. Everything booted up as normal, and I was ecstatic to verify Leopard's detection of the upgrade.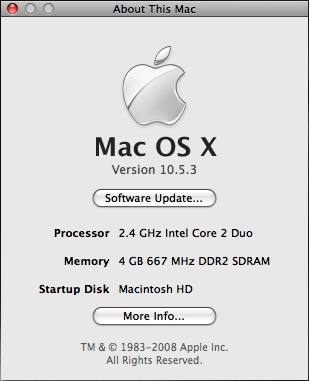 Overall, I'm very satisfied with the OWC vendor. I'll definitely be returning for any future upgrades. Furthermore, I strongly recommend purchasing extra RAM if you have some money to spare. It's the best (and cheapest) way to have visible signs of an improvement in performance on a Mac (or PC). Now I can run Parallels Desktop with Linux and Windows without having to worry about excessive page outs (swapping).