Application Services
I wanted to share my experiences from applying to Texas medical schools with those who aspire to follow the same journey. Hopefully they will help you make wiser decisions regarding the overall process and help clarify some ambiguities along the way. First, all the Texas medical schools (except for Baylor College of Medicine) take part in a common application service known as the TMDSAS. These schools are as follows:
Baylor College of Medicine uses a separate application service known as the AMCAS. I applied to BCM as well as UTMB, UTSA, UTSW, and UTH.
My Timeline
It's a well known fact that the early applicants get the early interviews (and therefore, the acceptance letters). Knowing this, I attempted to finish everything as early as possible. I now realize there were things I should have done a little differently to streamline the process even more.
Application for 2009 Enrollment

| | |
| --- | --- |
| 5/1 | TMDSAS opens. |
| 5/12 | TMDSAS submitted and transcript requested from undergrad. |
| 5/16 | TMDSAS receives transcript. |
| 5/18 | MCAT score is posted online. |
| 5/23 | MCAT scores are electronically released to TMDSAS. $115 fee is mailed along with passport photos and certification page to TMDSAS. |
| 5/27 | TMDSAS receives certification page, fees, and photos. |
| 6/4 | AMCAS opens for application submission. |
| 6/5 | AMCAS submitted ($160 fee) and transcript requested from undergrad. |
| 6/13 | Committee letter mailed to TMDSAS and AMCAS. |
| 6/19 | AMCAS receives transcript. |
| 6/25 | TMDSAS receives committee letter. TMDSAS is now complete. |
| 7/1 | Baylor's secondary app is posted online. I completed and submitted it the same day ($80 Paypal fee). |
| 7/8 | AMCAS receives committee letter. AMCAS is now complete. |
| 7/24 | UT Southwestern's secondary app is posted online. I completed and submitted it the same day (no fee). |
Based on the timeline above, there are several things which I'm glad I did:
Finished my personal statement before the applications went online.
Already knew which schools I was going to apply to.
Submitted my secondary applications the day they were posted.
Ensured that I was first in line to have my recommendation letter compiled and mailed out.
Followed up with all the schools after my initial processing was completed.
Of course, there are number of things I advise you to do differently than me:
Send your transcripts to TMDSAS/AMCAS as soon as you have an account number (even though you're still working on your actual application)
Get around ten passport-sized photos before May.
If possible, take the MCAT early. This will prevent you from receiving your score after TMDSAS has already opened.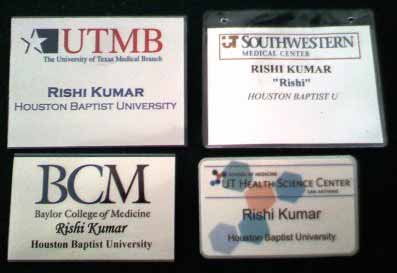 By implementing the aforementioned list of improvements, I could have been faster in having my initial processing completed. For those who don't know, medical schools begin receiving applications only after the initial processing has been completed. Therefore, earlier should be better. My timeline above could have been streamlined a little more, but it wouldn't have really made a difference. The additional time allowed me to double check my applications for errors, revise my personal statement, etc.
Interviews
Medical Institute
Interview Invite
Interview
Acceptance
Baylor College of Medicine in Houston
8/22
10/17

¹

12/10
University of Texas Health Science Center in Houston
—
—
—
University of Texas Health Science Center in San Antonio
7/24
8/11
—
University of Texas Medical Branch in Galveston
7/2
8/8
11/14
University of Texas Southwestern in Dallas
8/8
9/13
6/15

¹

Rescheduled from 9/19 to 10/17 due to Hurricane Ike
Links
Here are some posts which summarize my thoughts after each interview and other posts which are relevant to the application process.
Best of luck to those who are applying, and leave me a comment if you have any questions!