I had a great time attending what will probably be the last HBU graduation I'll see in light of beginning medical school this July. There's a lot to say about the happiness felt by graduates on this day, but from my perspective, it was more a time of reflection. Seeing so many of my friends walk across the stage allowed me to recollect my fondest memories with them over my undergraduate career. It's a bit disheartening to see the journey end as it comes full circle. 🙁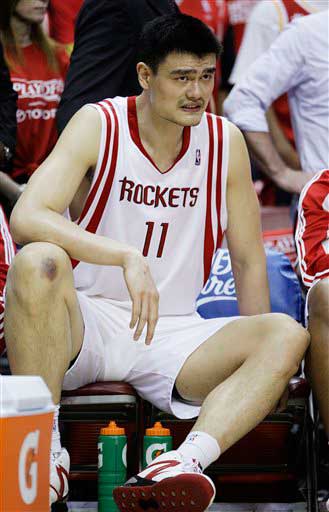 After the commencement, I attended Maria's graduation party and had a total blast. In the process of watching children running around the playground, playing tag, and walking around with balloons… I arrived at one horrific truth – I'm getting old. Either that, or I'm just jealous, heh.
So now I'm cleaning the house in preparation for going to Hawaii next week. Apparently, it's a good idea to "come home to a clean house", but I think mommy wants to use this as her Mother's Day gift. 😀 The Rockets will be playing Game 4 in a few hours but without Yao Ming. Towards the end of Friday night, Yao showed signs of being in extreme pain and trainers later attributed the pain to a hairline fracture on top of his left foot. This injury will cause him to miss the rest of the post-season. 😐
As a huge Rockets fan, this was probably the worst possible news while we're matched up against the Lakers. Though I still hope "Clutch City" can pull through, I'm slowly beginning to show a glimmer of doubt in our ability to win Game 4 (or Game 5). Gosh I hope I'm wrong.